Bulgaria is located on the Balkan Penisula in South East Europe. It is attractive destinations both in the winter and in the summer.
Holiday to Bulgaria offers great opportunities of skiing in the mountains, sunbathing and swimming on some of the best Europen beaches of the Black Sea.
During your trip to Bulgaria you will discover fascinating history in which uncient Greeks and Romans played important part.

Bulgarian folk culture and its cuisine are also interesting. Come and taste caca, midi and Rakija or refreshing bulgarian wine.
There are many resorts waiting for you and you can be sure that a holiday in Sozopol, lively Albena or uncient Nessebar will become unforgettable.

Search for Bulgarian deals
Featured resort - Sozopol
The town is located 35 kilometres south of Burgas. It is an old, ancient town, however today it is known mostly as a modern and lively resort.
Sozopol is famous not
only for its holidaying values but also as a town where the Apollonia Art and Film Festival takes place.
It is also known as "The Bulgarian St. Tropez". Maybe for the stars like Ralph Fiennes, Brad Pitt, Angelina Jolie and Goldfrapp have been seen here.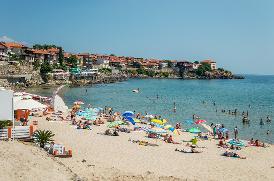 During your holiday in Sozopol you may sun bath on beautiful sandy beaches or dive at rocky shores of the peninsula.

In Bulgaria you will still find small fishing villages next to modern resorts. Literally everything one could expect from a beach holiday in Europe. Those bustling beach towns offer plenty off attractions: watersports, entertainment, restaurants, cafes and snack bars. It can be so busy in the night and so relaxing during the day!
Although first tourists, from former Austria-Hungary Empire (Germans, Poles, Czechs) came here over hundred years ago, Bulgaria is relatively new on the European holiday list. Athough known for its values in Western Europe, it is still not so crowded as resorts of Majorca or Costa Blanca. And that is what many of us search for.
Holiday in Golden Sands or Nessebar can be quite relaxing as well as providing great sightseeing opportunity.

TIP. When you prefer big hotels and do not travel on a budget - go to one of widely known resorts of the north coast. Spend your holiday in Golden Sands or Albena. Have less to spend? Want to know something more traditional and enjoy a company of locals or other Eastern Europeans? Head for the south. South from Sozopol, visit Primorsko or Tsarevo. And visit National Park of Ropotamo River. And by the way: South or North - have a shot of fiery Grozdova Rakija!
____________________________________________________
© bestsunholidays and MediaInvest. All rights reserved.