The Gambia is a dreamland if you have winter sun holidays on mind. The holidays in The Gambia give you a guaranteed sunshine all day long, sandy beaches and a company of friendly people - as it is often called:
The Smiling Coast of Africa
It is only around 6 hours flying time from the UK. But not only for this reason it is much more affordable option of spending your winter sun holiday.
You won't spend too much on food, drink, entertainment. The country is tiny but offers a lot!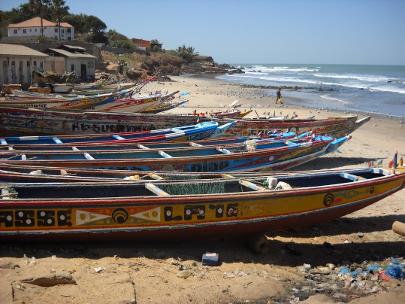 The Gambia is a small - actually the smallest on the continent - and narrow country named after the Gambia River, which flows through the country for 300 miles to the coastal capital of Banjul. It lies on the West coast of Africa and is surrounded on three sides by Senegal, with 80 km (50 mi) of coastline on the Atlantic Ocean on its western side, consisting mostly of sandy beaches.
The country is small, but it boasts a wide variety of scenery, the famous river, tropical forests, marshes, colourful wildlife and large areas of wooded savannah.
The main beach resorts are Bijilo, Kololi, Kotu and Bakau/Cape Point. What is important, these palm-fringed yellow sand beaches are rather free of crowds, so you will find a slice of personal paradise. When not on the beach you can relax quietly in your hotel garden and watch the birds of which Gambia is famous for, or take a wildlife tour through one of Gambia's many reserves or even go for a safari. At night you can expect performances of drumming, dancing and fire eating.
TIP. When to go and what is the weather like?
The Gambia is located between the Tropic of Cancer and the Equator. It enjoys sunshine and high temperatures all year round. However, you must remember there are two distinct seasons, wet and dry.
In spring and summer months, until October, the temperatures rise and humidity increases due to short, sharp showers.
For these reason the best time for your sun holidays in The Gambia is between November and March when it's dry and bearably warm. The coastal areas offer cooler sea breezes although when you go for an inland excursion it can still become really hot. This is also the best time to view the rich local wildlife.
____________________________________________________
© bestsunholidays and MediaInvest. All rights reserved.